In the wake of the COVID-19 pandemic and its impact on the construction industry, many construction companies have been compelled to look for more streamlined and effective ways to improve transparency and communication among teams and projects.
After having so many projects grind to a halt across North America in 2020 and into 2021 (as well as having the number of team members allowed on a jobsite drastically reduced in many locations), many contractors and building professionals are turning to technology and the internet-of-things to help fill the void.
Why Are Construction Professionals Turning to Technology?
Clarity, transparency, and effective communication are critical to the success of construction projects, and keeping everyone updated on the status of the project throughout the build helps accomplish those goals in an efficient and cost-effective manner
This is where technological solutions come into play.
Until very recently, the construction industry has been notorious for being slow (or even unwilling) to adopt technology and technological advancements for a variety of reasons — cost, time, reluctance to be the first to use a solution, etc. But that has changed dramatically over the last year due to the pandemic and the restrictions it has placed on the construction industry.
Technological solutions are oftentimes more cost-effective than many of the alternative solutions available.
For example, installing a construction camera with live-streaming HD video on a project is far more affordable, efficient, and safe than traveling to and from jobsites on a weekly or monthly basis, and you and your teams still have access to real-time information for decision making! It never hurts to have another set of eyes on the project, and that's exactly what a construction camera provides.
Additionally, technological solutions like construction cameras help promote safety on jobsites, as you are able to identify incidents or near misses, allowing you to correct safety issues in a timely manner.
At the end of the day, construction professionals are turning to technological solutions like construction cameras to help keep projects on schedule and on budget because they work day in and day out. They deliver value to everyone involved with a project and are cost-effective solutions to help streamline the construction process for teams and projects of all sizes.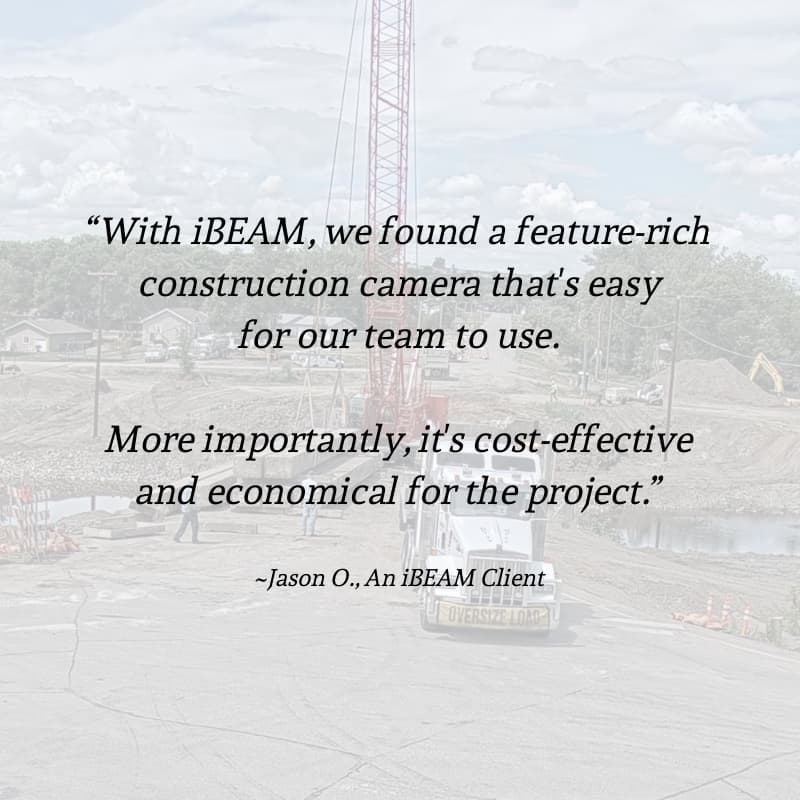 Keep Your Teams and Projects Connected 24/7/365
With many construction projects involving multiple stakeholders (many of which are located in different cities or states), effective communication is paramount to a successful project.
Technological solutions like construction cameras deliver an easy-to-use tool that allows contractors, subcontractors, investors, architects, and other parts of the project team to communicate more effectively.
Teams are able to log in to online photo archives or create on-demand 4K time-lapse movies at any time and from any smart device. This translates into more efficiency from personnel on the jobsite and in the office, as well as less time and money wasted on trivial issues like traveling to and from projects.
Construction cameras also provide visual documentation of work provided by subcontractors, helping to substantiate that their work is done on time and to specification.
If an incident or issue occurs at a project, having a construction camera that captures Ultra HD photos and 4K time-lapse movies from the site can help expedite the claims process, as well. Instead of a he said, she said scenario, you'll have indisputable visual evidence that shows exactly what happened and when.
Finally, many technological solutions designed for the construction industry are able to be used time and time again, thus helping deliver even more value to projects and the companies that utilize them over time!
Put Industry-Leading Construction Tech to Work for Your Next Project
When you have a project that could benefit from an industry-leading 4K construction camera, contact us and we'll be happy to help fill you in on the latest camera solutions from iBEAM.
With affordable purchase and rental camera solutions available and in-stock, we're confident that we have the right live-streaming HD video and 4K time-lapse camera solution for your next construction project.
Until next time, keep what's really important in focus.
Doing the right thing, for every client, every time.
Vicki Robertson
Vice President