When it comes to cameras for construction projects, there's a lot of information to wade through and important decisions to make.
There is a wide variety of camera solutions marketed to construction professionals, and it's important to understand what each solution is designed to do and, just as important, what they do not do.
For example, there are:
professional-grade construction cameras with time-lapse and live-streaming video features designed to keep projects on schedule, teams connected, and capture detail-rich photos and create time-lapse movies of projects,
drones equipped with 3-D modeling cameras designed to help teams visualize projects and keep them in-line with specs,
security cameras with infrared and motion-detection features designed to keep job sites secure after hours,
hand-held point-and-click/smartphone style cameras for first-person viewing and walkthroughs of job sites, and
dash cameras and back-up cameras for improved job site equipment handling safety.
With such a diverse selection of camera solutions aimed at the construction market, it's no surprise that there is misinformation and confusion surrounding these solutions, their proper application, and how they effectively fit into the construction industry.
Let's take a closer look at one of the BIGGEST misconceptions about cameras in the construction industry — the infamous construction camera versus security camera misconception — as well as the defining characteristics of the two (because I promise they're not the same).
The Common Construction Camera Misconception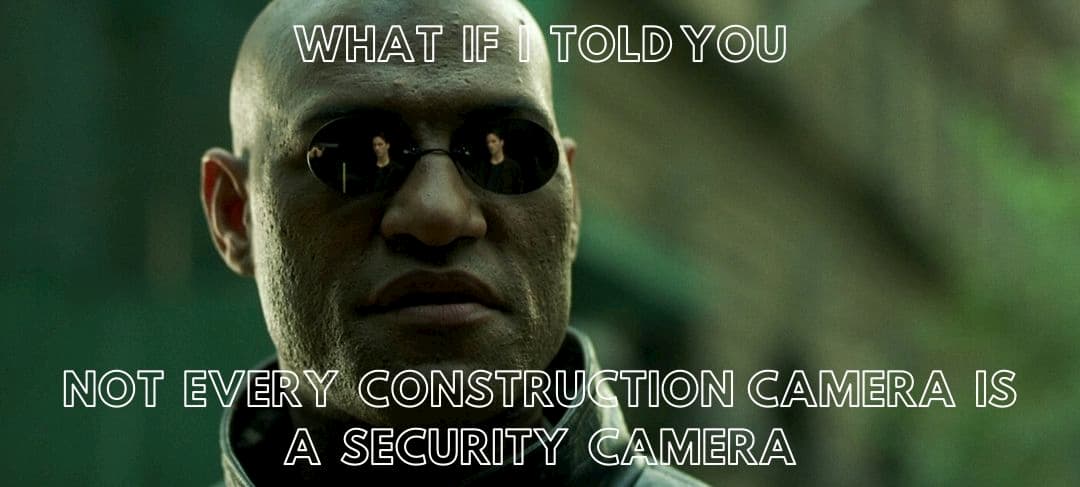 You might want to sit down for this one…not every construction camera is a security camera.
You read that right.
Construction cameras are designed to accomplish a variety of purposes on a job site. From live-streaming HD video to high-resolution photos and 4K Ultra HD time-lapse movies, construction cameras offer a multitude of benefits to users for photo documentation, remote project viewing, marketing purposes, and more.
On the other hand, security cameras are specifically designed for security-related instances — meaning they include specific features designed towards catching (or hopefully preventing) theft from occurring on a job site after hours. They ultimately have a singular purpose: security.
As you can see, based upon how they're put to use on job sites, as well as what they actually provide to users and the construction projects they're installed on, the two couldn't be more different.
Now that we have a basic understanding of how construction cameras differ from security cameras, let's take a closer look at the defining characteristics and features of both.
Construction Camera Characteristics & Features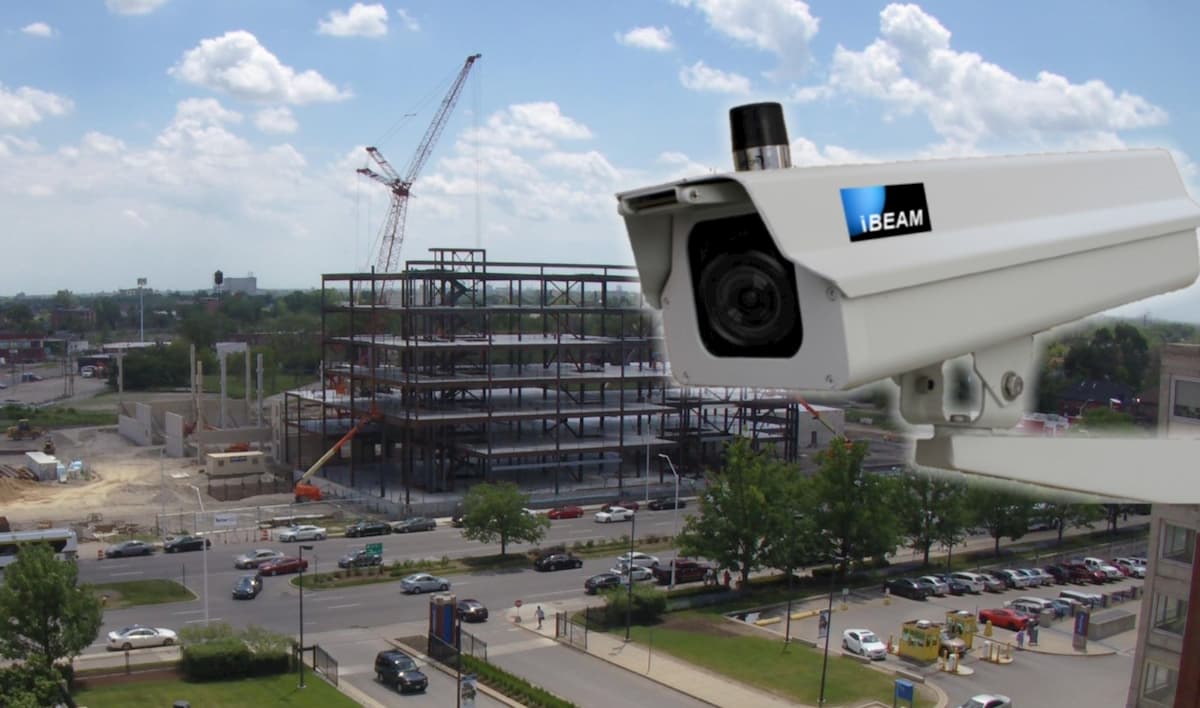 Construction Cameras are helpful tools that nearly all construction professionals can benefit from when utilized on a job site.
Professional-grade construction camera solutions provide:
Rugged cameras that withstand rain, snow, heat, cold, high humidity, and whatever else mother nature throws at them to stand up to real-world construction conditions.
Integrated 4G LTE cellular modems for easy setup.
The ability to accommodate a variety of power options, ranging from 120 VAC to solar power, generator solutions to battery solutions, so even if power isn't available on site, a construction camera can still be put to good use.
High-resolution photos and 4K Ultra HD time-lapse video ideal for documentation, marketing, internal project management, and more.
Live HD video of job sites and remote-controlled pan-tilt-zoom so you can see exactly what's happening at your job site
Easy-to-use web and mobile device interface with 24/7/365 access.
Online photo archive with long-term storage for referencing projects years after they're completed.
Purchase and/or rental options to help fit a variety of project durations and budgets.
At the end of the day, construction cameras are multi-faceted tools that deliver a variety of applications and benefits to a diverse group of construction-based professionals.
Security Camera Characteristics & Features
As opposed to the multi-faceted solutions construction cameras provide, security cameras are focused on one thing: security.
Traditional security camera solutions:
Offer night vision/infrared/thermal detection.
Offer motion detection with real-time alerts (which can be triggered by cars, birds, shadows, etc, so keep that in mind).
Typically require multiple units to effectively surveil an entire job site.
Are predominantly available as purchase options.
Typically require a traditional power source and an Ethernet connection for ideal effectiveness.
Includes (or offers) remote monitoring for security-specific alerts and real-time protection.
Stores video for a set period of time on loop systems (example: 14 or 30 days) — no long-term archives included.
Are designed for perimeter viewing and detection (not necessarily the actual area where construction occurs).
What About Hybrid Solutions?
Some construction cameras, such as iBEAM's iBEAM Fixed 4K and iBEAM PTZ 4K cameras, have the option to record video 24/7. Some security cameras can let you view live video. But the truth is that there's no singular solution that does EVERYTHING perfectly.
Instead, it's important to define and prioritize what you and your company need to accomplish in order to select the type of camera system that will meet your specific needs. This way you'll be setting yourself up for success from the start of a project.
What Are You Really Looking to Accomplish with your Camera?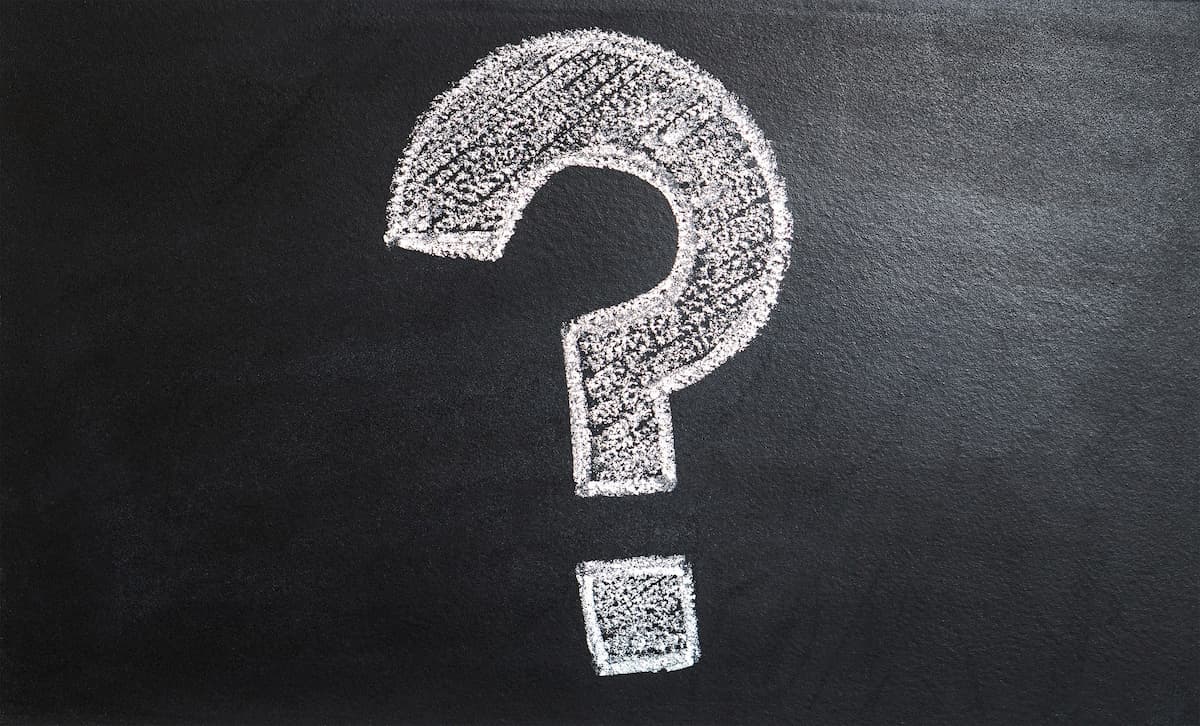 Once you have your needs defined, it's usually clear what type of camera solution you need. But if you're still on the fence about whether a construction camera will suit you best, contact our team of camera specialists today. They'll help answer any questions you may have about construction camera systems and help point you in the right direction.
Alternatively, you can use our quick and easy one-question camera worksheet below to help guide you toward the right camera solution for your next construction project.
Camera Selection Worksheet:
1. What is your top priority?
Based on your priorities, a construction camera solution is likely the best choice for your project. Please
connect with our team of camera specialists
and they can help you decide which construction camera model is ideal for you, your company, and your project.
A high-resolution construction camera is ideal for creating the marketing collateral you need.
Schedule a personal demonstration
to see how an iBEAM Camera can work for you.
A traditional security-camera solution may be the best choice for you.
Until next time, keep what's really important in focus.
Vicki Robertson
Vice President
iBEAM Construction Cameras

Doing the right thing, for every client, every time.