SUMMARY:
The City of Laguna Niguel, situated in Orange County, California, is a suburban city with a population of roughly 63,000. It's a comfortable, quiet city nestled between Laguna Beach and Dana Point, and is currently celebrating its 30-year anniversary.
With new and exciting construction projects on the horizon, the city found itself in need of a construction camera to document the demolition of the existing community center and the construction of the new Crown Valley Community Center. The city needed to find a solution that would fit their immediate photo documentation needs and budget, but also was intuitive in use to share updates with the community and taxpayers so they could be kept regularly in-the-know.
---
"Working in Public Works, public relations is a big part of that. Our iBEAM Construction Camera allows the city council members and taxpayers to see everything that is going on and stay up-to-date with the project, which they all enjoy!"
- Ziad Mazboudi, City of Laguna Niguel
---
Company: The City of Laguna Niguel
Location: Laguna Niguel, Orange County, California
Owner: Ziad Mazboudi
Industry: Local/City Government
Website: cityoflagunaniguel.org
Project: Crown Valley Community Center
Equipment Used: iBEAM Time-Lapse Pro 4K+ Construction Camera

Project Background:
The demolition of the former community center in Laguna Niguel was quickly approaching, so the city needed to find an easy-to-use photo documentation solution as it makes way for the new 30,000-square-foot Crown Valley Community Center.
The new three-story contemporary-style community center building will be a major hub of activity for the city and its citizens, and will be complete with:
A dedicated art room
A dance and fitness room
A collaborative tech room
A multi-purpose room, complete with a 300-person dining capacity and catering kitchen
An aquatics level with locker rooms with private changing areas
An upper-level outdoor rooftop patio that overlooks the pool
Due to the variety of features and scope of the construction project, a 4K construction camera with time-lapse features and a high resolution was desired by the city.
The Problem:
With this extensive community-oriented project looming, Ziad Mazboudi, the Engineering Service Manager of the Public Works Department for the City of Laguna Niguel, went to work finding a photo documentation and time-lapse solution.
The camera solution would need to be affordable, reliable, and, most importantly, easy-to-use in order to be adopted by the city government.
Goals and Objectives:
The goals for the City of Laguna Niguel were straightforward, and consisted of:
Finding a solution that allows for regular, timely updates for city council members and taxpayers
Finding an easy-to-use, intuitive solution that doesn't require additional training for team members to utilize
Keeping costs at or below the city budget
Solution:
Ziad had a fair idea of what he was looking for, as he already had first-hand experience with construction cameras from previous projects. With this backgroundk, he started looking online for a possible solution that met his criteria and had the functionality he desired.
Ziad also conferred with previous architects and contractors in the Laguna Niguel area regarding their personal experience with construction cameras to get a better idea of what solution to utilize.
Results:
After conducting research online and speaking with industry peers in his area, Ziad ultimately selected an iBEAM Timelapse Pro 4K+ Construction Camera due to its ability to create on-demand time-lapse videos in UltraHD resolution and the camera's easy-to-use interface. The iBEAM camera Ziad selected provided continuous images and high image resolution, which was very important to the city.
The city initially located the camera at the Crown Valley Community Park Tier 2 Entry, but Ziad and the city were so impressed with the results at that location that they wanted to capture more, so it was reinstalled to the Tier 3 Community Building.
This move and reinstallation of the camera allos Ziad and the city to capture alternative angles of their project, thus providing a more comprehensive view for their photo documentation purposes. Relocating the camera also allowed Ziad, the city, and the construction crews the ability to see every aspect of their project, thus helping to address, and therefore reduce, possible issues before they arise.
With their Timelapse Pro 4K+ Construction Camera installed on their new project, Ziad and the City of Laguna Niguel have been able to keep everyone from city council members to taxpayers up-to-date regarding the new community center construction by way of regular photo and time-lapse video updates.
Below is a live view picture of the construction project that Ziad and the city have embedded on their website: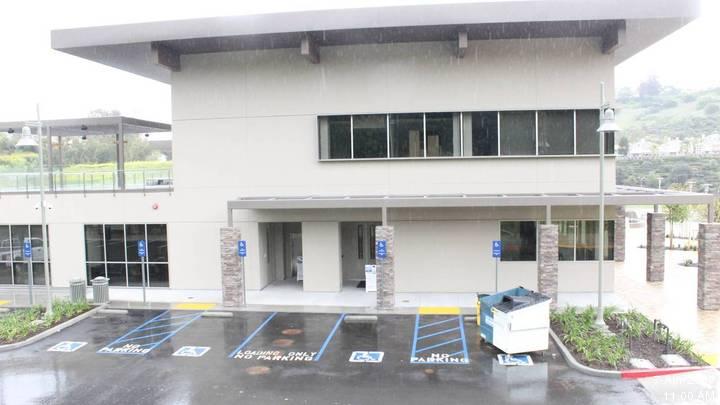 Ziad personally creates weekly time-lapse videos to share with citizens and the city council directly from his iBEAM camera web page. The city council and members of Ziad's team enjoy the camera and results so much they want to capture even more projects with construction cameras!
"One of our favorite features is the time-lapse and date filtering, especially since it's all on demand and I have full control."
Final Thoughts:
Ziad and the City of Laguna Niguel are a textbook example of how a local government agency can utilize a construction camera to its fullest potential - by personally creating on-demand time-lapse videos for community updates and government officials, as well as by reinstalling the camera to a second location on the same project to capture alternative construction angles.
One piece of advice Ziad has for anyone considering a construction camera for a future project is to take a little extra time prior to your project starting to identify the angle(s) at which you want to capture your project from. "By putting in some prior thought and planning (such as considering if one camera will be adequate, or if relocating and reinstalling will be required), you'll get far better results and be much happier with the outcome, as we are," he advises.
With the construction of the new community center expected to complete in early 2020, Ziad and the city plan to continue utilizing their construction camera and time-lapse videos for regular updates.
"iBEAM Construction Cameras have made everything much easier! Time-lapse videos are now created when I want and of exactly what I want...the flexibility is great!"
~Ziad Mazboudi, City of Laguna Niguel